The lamp above the dining table is a great mood setter for your home. More and more often you see open kitchens, where the dining table or the kitchen island is a real eye-catcher. It's logical you'd want a cool lamp to suit it! Usually a pendant lamp is chosen, because it breaks up the space, creating a separate place in the house. But how high does a lamp usually hang above the dining table? We are happy to help you with the tips below. Ultimately, you decide what you like, so do what you like!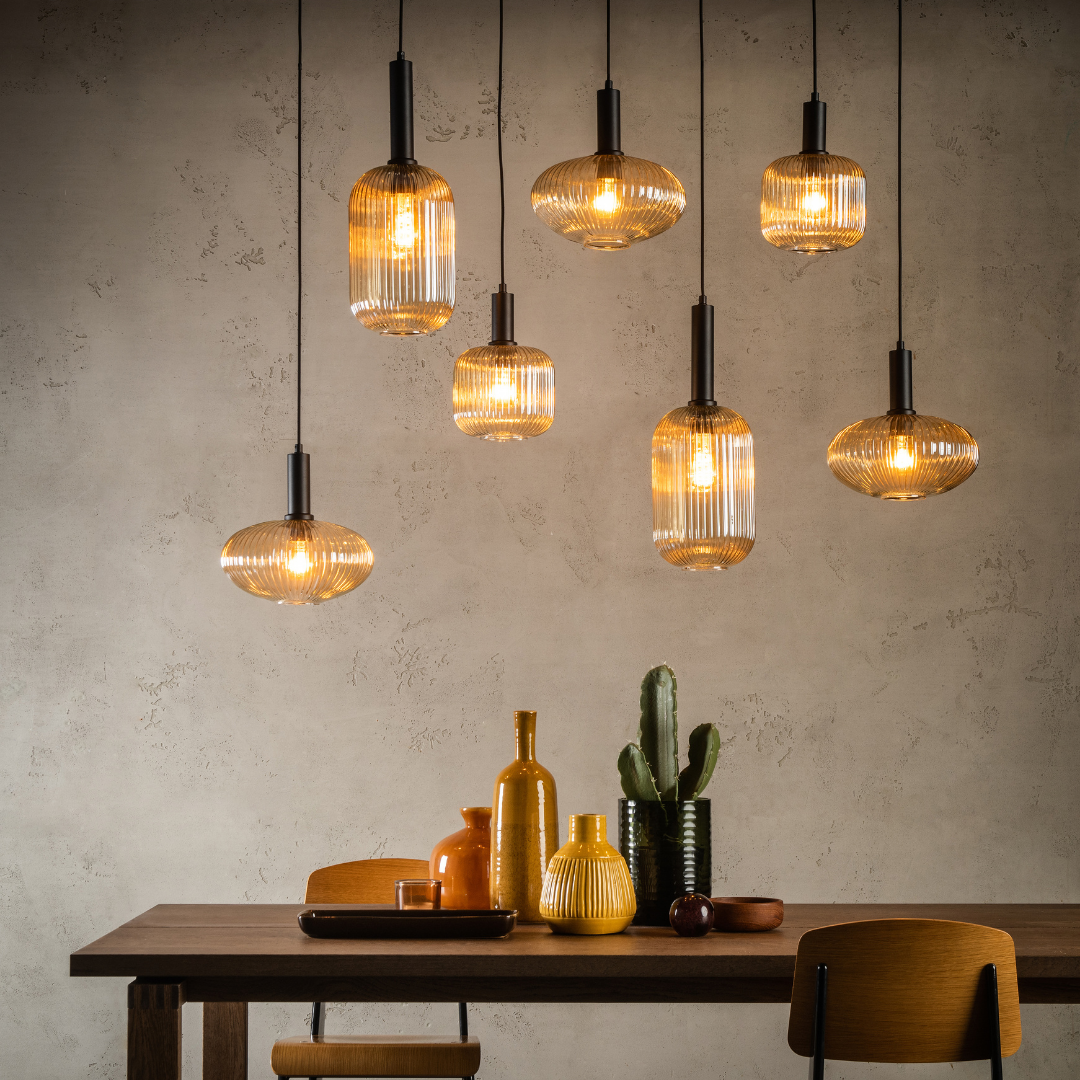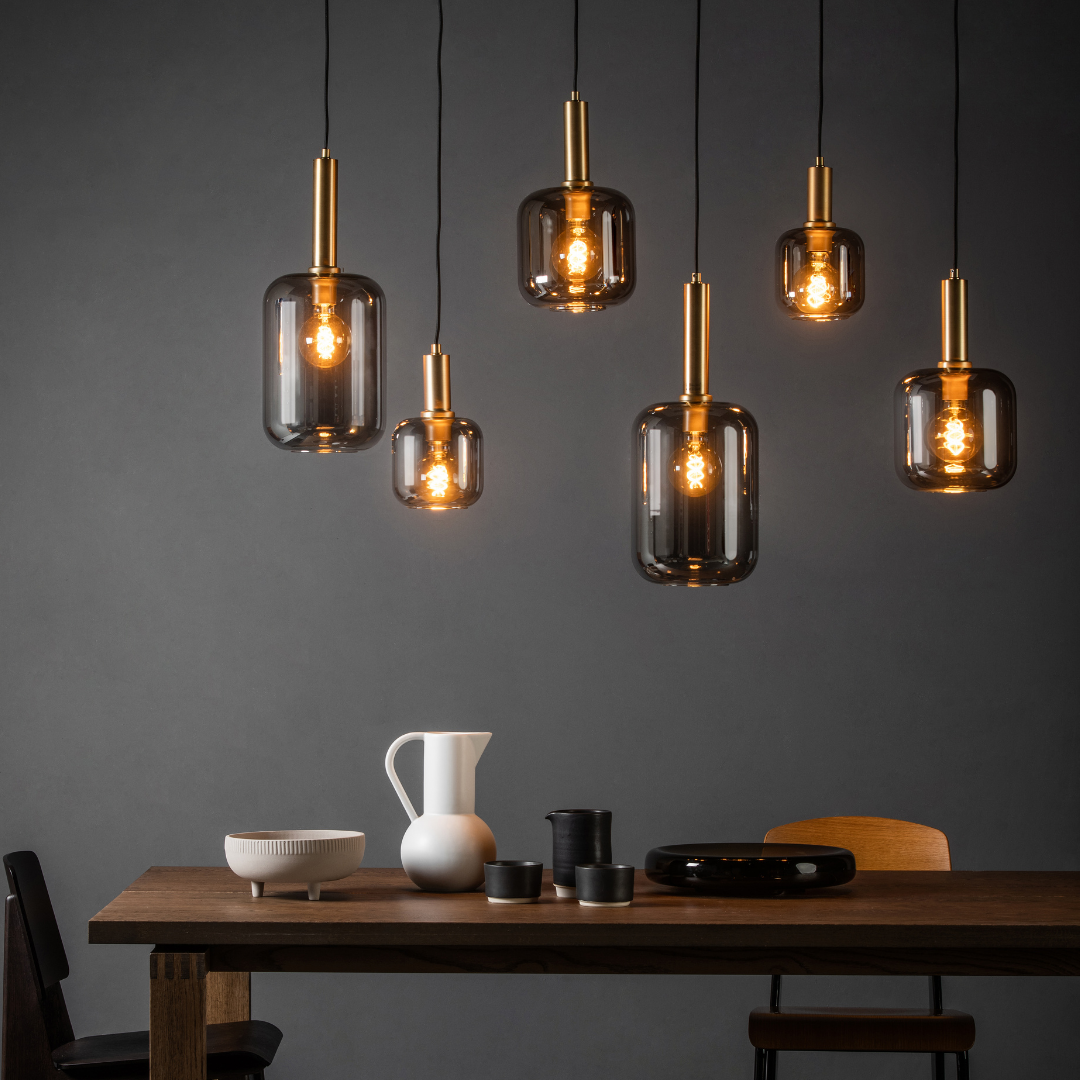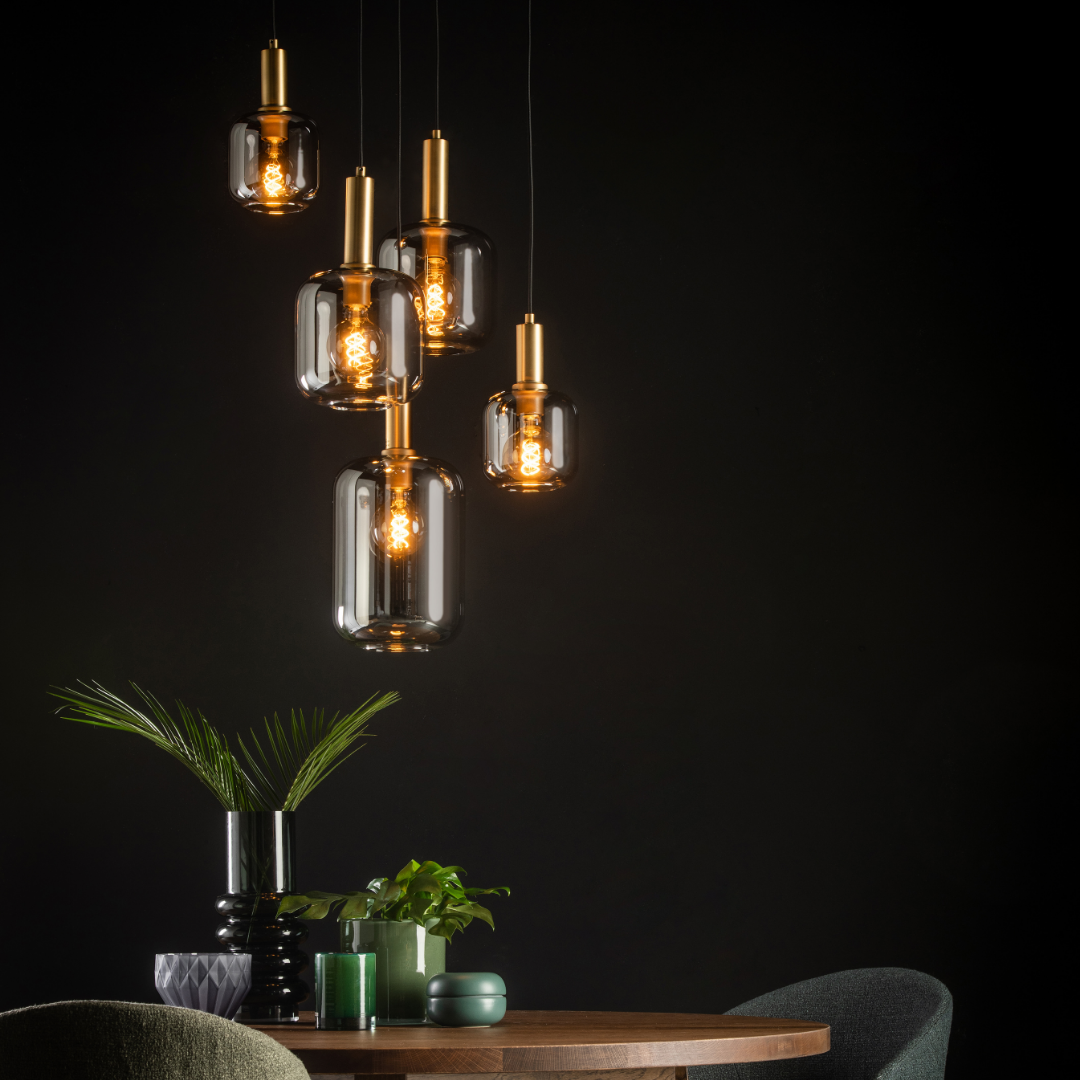 What function does your pendant light fulfil?
In order to choose the lamp that suits you best, it is good to consider the function that the lamp fulfils above your dining table. Do you primarily want a mood setter, for a romantic dinner, for example? Or do you work at the dining table, and do you need a more functional lamp? A combination of different moods is also possible, by using a pendant light and a standing lamp, for example. The great thing about that option is that it creates a playful effect in your interior. Another good option is a dimmer, ideal for setting exactly the mood that you want.
What is the distance between the dining table and a pendant light?
Often, the pendant light hangs between 60 and 80 cm above the tabletop. This height usually provides the best light for the table. There is an unwritten rule that the pendant light is positioned well if you can look under it when sitting at the table and is at approximately eye level when you stand. Try different heights and sitting and standing at the table to see what gives you the desired result. Do several people live in your home? They mostly likely have different heights. Check with everyone to find the ideal height for your pendant light.
What size is the pendant light?
If you hang an excessively large lamp above the dining table, you might bump your head against the lamp when standing up or sitting down. That is certainly not desirable, and there is therefore an unwritten rule about this as well: stick to a maximum of half the width of your table. If you have a round table that is 100 cm in diameter, then hang a lamp no larger than 50cm in diameter. If you have a long table measuring 100x180cm, then hang a lamp above it no larger than 50cm in diameter. Often, a round pendant light hangs above a round dining table. And an elongated pendant light or beam is used above a (long) rectangular dining table. That way, you can be sure that the light is optimally utilized. You also accentuate the dining table with the lamp and realize a great design. Are you a rebel? Then do the opposite and play with shapes for a creative look. Anything is possible: do what you think looks great!
Multiple lamps?
A long table, 100x200cm for example, usually does not get enough light from one lamp. The choice is therefore often made to hang multiple lamps above a long dining table. You can choose to purchase a pendant light with which multiple lamps hang next to each other, but you can also create your own lamp. A real eyecatcher in your interior, and you illuminate your whole table! We have some ideas to inspire you:
1. Hang the lamps next to each other in a playful way.
Maloto
2. By attaching hooks to the ceiling, you can arrange the pendant lights decoratively. 
Orrin
3. A ceiling plate lets you combine multiple pendant lights in a beautifully finished way.
How much space should there be between multiple pendant lights?
Do you have multiple separate pendant lights, and are you wondering exactly how much space there should be between the lamps? There is an unwritten rule for this as well that may help. Again, this is not a must: do what you think looks good. The diameter of the lamp is also the distance that is recommended. So if your lamp has a diameter of 40cm, then leave a space between your lamps of 40cm. 
Need inspiration?
Looking for inspiration for a great pendant light? Lucide is always on top of the trends and can help you to find your ideal pendant light. See our collection of pendant lights here.
Our website, Instagram and Facebook are chock full of inspiration, but our Pinterest channel is also ready to inspire you! Questions? We are happy to help. You can reach us via our social media channels or by using the contact form on our website. 
Best wishes from Lucide 😊